Our clients own a condo which occupies the second and third floors of a two family home in a quiet residential neighborhood in Cambridge, MA.
​
The existing kitchen and living spaces on the second floor were uncomfortable for hosting and lacked adequate storage space. Because of the steeply pitched gable roof, many of the rooms on the third floor were cramped and awkward. While the home had worked well enough for the family while the children were young, it was becoming non-functional as they grew.
​
Zaidi Christo Design was hired to design a complete interior renovation, while also looking at ways to capture additional living space on the third floor. The design goal for the project was to increase the functionality of the home in a way that would allow the clients to remain there as their children grew older.
Finished project photography courtesy of Samara Vise
After surveying the existing conditions and coming up with a number of options, we worked with the clients to settle on a final design direction.
At the second floor, we reoriented the bathroom in order to open up the entry hall and create a mud area with coat and shoe storage. Now, custom millwork lines the entry hall, wrapping the corner into a new open kitchen.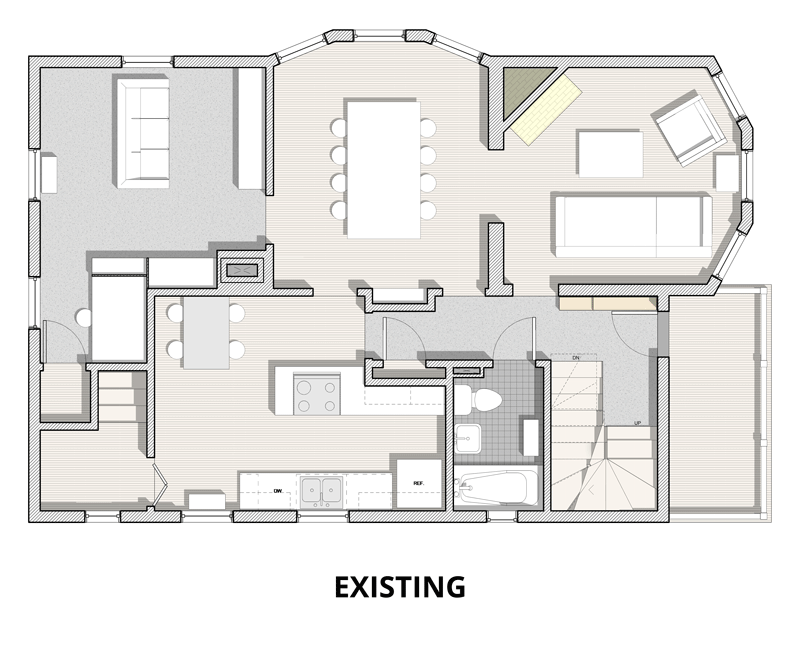 Built-in benches are used for storage and seating, creating a more welcoming unit entry, and an informal dining area in the kitchen.
The new bathroom at the second floor has a dark, contemporary aesthetic. A custom medicine cabinet and vanity compliment the open glass shower. The heated tile floor from the bathroom spills out into the mud area.
New custom shelving and a built-in entertainment center line the walls of the 2nd floor family room.
Because of zoning and historic preservation restrictions, we were limited in what we could add to the building exterior. On the third floor, the city allowed us to add two modestly scaled dormers at the back of the house which helped open up the floor and allowed us to create a full size bathroom and a new master bedroom. Replacing an existing chimney with a small vent running from the second floor to the roof created additional square footage at both the second and third floors.
Taking advantage of both new dormers, the master bedroom has windows on three sides, including in the new walk-in closet.
The new third floor bathroom has a brighter, more traditional aesthetic, taking full advantage of the space created by the new dormer.
The kids' rooms now include new closets and built-in storage. The rooms are brightly painted to reflect the personalities of the children.
Click through for additional images
Master bedroom after renovation
Third floor bathroom after renovation
Master bedroom after renovation
Master bedroom after renovation